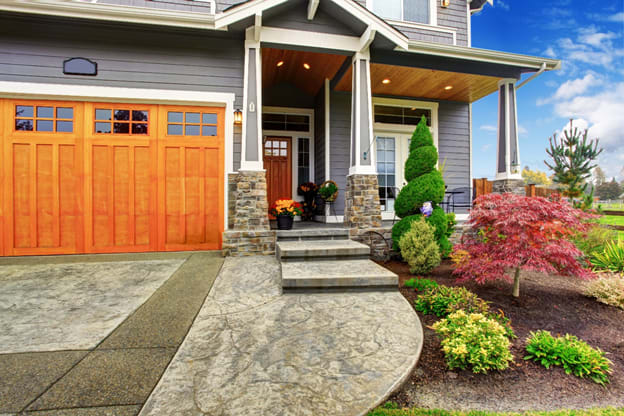 It's been said that you only get one chance to make a great first impression. When it comes to selling your home, it is extremely important to ensure that the first impression is a positive one- and that begins at the curb. When a buyer sees your property from the street, they should be looking at the best version of your property possible. Curb appeal refers to the impact your home makes as they get that first impression. By focusing on your home's strengths and addressing any visual rough spots, you can give your home its best chance at selling for max value!
How Do You Boost Curb Appeal? Here Are Some Proven Ideas That You Can Get Done in an Hour or So
Make the Outside Shine
If the outside is in disrepair or unkempt, it can be interpreted that the inside is going to be in the same condition. Taking the time to ensure the outside is clean and tidy will not lead to a false interpretation of the interior.
Let the Window Sparkle
Both inside & outside, keeping the windows and window sills free of debris, helps to brighten the exterior of the home, keeping it fresh and inviting. From the inside looking out, clean windows let in a lot of natural light.
Help It Say "Welcome"
The front door is where most guests enter your home. Don't overlook the front porch or the front door when it comes to weekly cleaning. Sweep the walkway leading up to the front entrance. Refresh the entrance with a new welcome mat and some seasonal plants or another decor. If the entrance door hardware is old and worn, change it. New hardware can make a bigger difference than you might think. Touch up sun-faded areas with a fresh coat of paint.
Keep the Garage and Driveway Clear
When photos are being taken and during open houses, If possible, park your cars elsewhere. Let buyers imagine their own cars parked there! Consider getting the driveway and walkway power washed. Porches and decks can also benefit from a quick wash. Be sure to give yourself plenty of time for drying before buyers arrive!
Landscaping Is Important
Mow the lawn. Lightly trim the hedges. Weed flower beds. Consider planting seasonal plants to give the home a fresh, cared-for feeling.
Decorate Window Space
In the same way, a store uses their window space as a way to tempt you into the store, do the same with your property. Remove anything from inside window sills that may look unsightly from the outside. Small flowering plants may be a great alternative.
Relocate Various Outdoor Items
Place any trash bins out of sight. Relocating them to the backyard or garage can be a good temporary solution. Other outdoor items such as grills, children's playsets, and patio furniture should be cleaned and well-staged or removed.
Use Lighting to Your Advantage
Nonfunctional lights can make your home look like it's in disrepair if a buyer swings by after dark. Use lighting to highlight beauty spots such as any landscaping fixtures.
Check Your Mailbox
Mailboxes can easily slip under the radar. Inspect it carefully. Depending on the condition, you should clean, repaint or replace it.
These one-hour improvements may seem minor, but anything that helps buyers form a more positive first impression of your home is worth the effort.
Although individually these one-hour tasks may seem minor, collectively they pack a punch on boosting the curb appeal allowing buyers to form a positive first impression that encourages them to want to continue the tour inside.