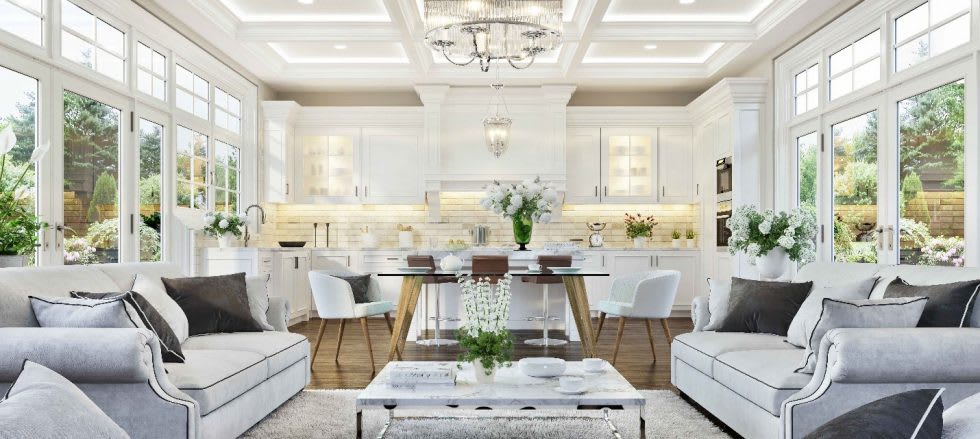 Interior design trends come and go, but for the past few years, the changes were subtle. All that has changed in 2021, with a fresh new look! Spaces are being lightened and softened, as eclectic styles are being merged into unique looks. If you're ready to embrace this stylish change, the good news is that almost anything goes! With a trend for everyone, all you need to do is find one that suits you and experiment with everything from colors and textures to layouts and furniture designs.
10 Design Trends to Try This Year
Not surprisingly, homeowners are carving out specified offices and workspace. Home offices are one of the biggest trends we've seen in a long time. Forget the dark wood paneling of home offices and studies of the past, these new home offices are aimed at feeling light and airy. Making the perfect space for productivity is the art of making a space feel comfortable and cozy while also avoiding distractions. Lighting in particular is very important- utilize natural lighting and a view of the outside world to keep your office from feeling like a cubicle.
2. Separated Rooms
Open floorplans were the darling of designers, and while not exactly gone, have been transformed. By using temporary dividers, designers are turning large open rooms into smaller separate areas. The benefit? Everyone has a space of their own, with a little more privacy and a little less noise pollution. This trend has also allowed for each space to be given more individual touches- such as choosing different colors or themes for an attached living room/dining room.
3. Houseplants and Indoor Gardens
Natural indoor plants and gardens add to the feel of a soothing, natural environment while also helping build practical skills and giving you fresh herbs or vegetables to enjoy!
4. Rattan
Natural materials are receiving a lot of press at the moment and rattan furniture and accents are everywhere. Natural materials give off a warmer and more unique feel than the often sterile and basic furniture you might have seen trending a year ago.
5. Wood Grain
Much like rattan, natural wood grain finishes have been very popular. These natural tones add warmth to many spaces and enhance that feeling of a lived-in space.
6. Playgrounds
While the kids were home, they needed more to do than watching TV or playing a game. Backyard playgrounds have been taken to the next level; offering private places for the kids to play while staying close to home.
7. Dark and Cool Patios
Patios became a great destination for relaxing evenings. Specifically, grays and blacks are showing up in patio furniture, paint colors, and hardscapes. These colors offer a great change of pace to those who spent a lot of time on their patio previously.
8. Smart Bathrooms
Touchless faucets, Alexa-enabled showerheads, self-cleaning toilets, and more have offered a new level of convenience and luxury. These additions continue to become more affordable and reliable and can make any bathroom feel like a 21st-century masterpiece.
9. Retro Style
Ready for a blast from the past? Nostalgic styles and colors are popular this year. Bold palates and updated retro furniture are fresh again. Everything from midcentury modern to bold and zany looks from the 80s and 90s is becoming a fun way to personalize your space.
10. Soft and Cozy
When it's all said and done, home is where you escape from the outside world and relax. Layers of pillows, throws, and area rugs create an inviting room where you want to spend your free time. Put your phone on silent, wrap yourself up in a heavy blanket, and enjoy the company of your favorite book or movie.
Your home is a reflection of who you are, and should meet not only your needs but also your wants. Now is the time to build a personal design that suits your lifestyle and theme. With eclectic options to suit any taste, home design is in your hands!