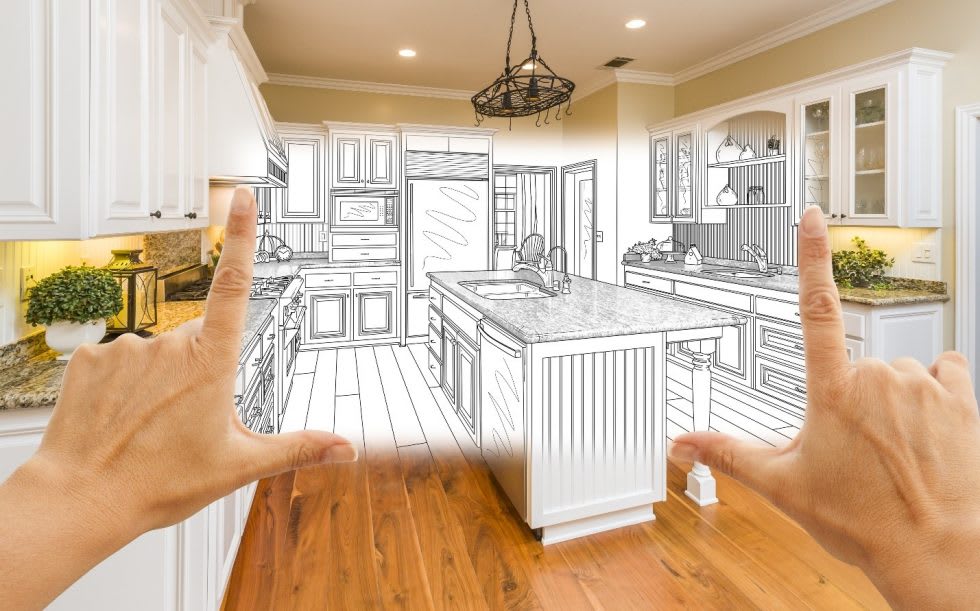 Our wants and needs for a home change over time. Family dynamics change with the arrival of children or the moving in of elderly parents and we find ourselves in need of more space. Once the children grow up and move out on their own, we're left with more space than we need. Perhaps we find ourselves needing a home office more than an extra guest bedroom, or a room needs an up major upgrade. No matter the reason, all of these factors require change. For some, finding a new home that meets their new requirements is just the ticket, while others might feel a remodel is the better solution. Renovating a home allows you to make changes and re-purpose spaces to make your homework more efficient for your family's needs.
Sometimes the downside of a remodel is the investment of time and resources that can go into even a simple project. Whether your remodel is addressing structural and architectural changes or is focused more on cosmetics, hiring an experienced professional is often the best way to go. This affords you the ability to focus on the rest of your busy life, leaving the work itself to the contractor. Although the best way to live through a home renovation may be to book a home at the beach and get away for a while, for many, that isn't an option and must continue to reside in their home while the remodeling work is completed. Fortunately, there are some helpful ways to live through the dust and noise, and come out loving your "new" home!
Get to Know Them
Start by getting to know your contractor and their team. These people are going to be spending prolonged periods of time in your home, even when you're away. Do your research online to find a trustworthy and friendly contractor. If possible, ask friends and family for recommendations — and always check out their references. Not all contractors are the same so don't skip the research on all the contractors you contact.
Set a Schedule
If you feel comfortable leaving your contractors alone while they work, they can work while you're away at work or complete other daily tasks like shopping. This might be a little challenging if you work from home, so perhaps certain hours need to be set aside where conference calls can be completed when the power tools aren't in action.
Set Limits
Make boundaries upfront and make sure everyone is on the same page. Set aside private areas in the home that the construction crew will avoid. On the same token, give the work crew room to work, and try to keep children out of the area- work zones can be dangerous, especially when workers are distracted.
Communication is Key
Maintain an open line of communication with the remodeling team. Be available to discuss the project with the general contractor and any assistant project managers. Important decisions can come up on short notice, so it can be helpful to be made aware of project changes or concerns as soon as possible. This can help avoid downtime where the crew is awaiting approval from you.
Be flexible!
The remodeling process is only temporary. While it may sometimes be challenging to navigate around the constructions zones and have the extra building dust and debris invade your spaces, the end result will be worth it. Don't be afraid to take a break from it all if necessary. Take a day trip or perhaps a short weekend away to reinvigorate your enthusiasm for your new home.

Living through a renovation may sometimes be challenging, but it can also be an exciting prelude to a better home for you and your family! Keep these tricks in mind and embrace the adventure- focus on the future and the final results you can expect.